A Palestinian man was on his way to a chemotherapy session when he was shot by Israeli soldiers last November, his family told an Israeli journalist this week.
Muhammad Amar Jallad was being treated for Hodgkin's lymphoma, his family told Haaretz reporter Gideon Levy. Jallad was reported to have died in an Israeli hospital where he was being treated for his injuries last week.
The Israeli army claimed that Jallad was attempting to attack soldiers with a screwdriver when he was shot in the northern West Bank village of Huwwara on 9 November.
A witness told the Ma'an News Agency that he saw Jallad "attempting to cross the road in Huwwara before being shot at by an Israeli soldier who then took out a knife and threw it next to the youth."
Shot while running across road
Jallad's father told Haaretz that his son had set out from their home in Tulkarem that morning for the nearby city of Nablus, where he was being treated at the An-Najah National University Hospital.
When Jallad realized he had mistakenly boarded a shared taxi heading to Ramallah, rather than Nablus, Levy reported, "The driver suggested that he get off at Huwwara junction, next to the checkpoint of that name, where he would be able to pick up the taxi to Nablus."
Jallad exited the vehicle and began to cross the road.
"He did so on the run," according to Levy. "On the other side was an [Israeli army] jeep and a few soldiers, who were guarding the busy junction. The soldiers apparently thought that he was out to attack them."
Jallad was shot with one bullet to the stomach as he reached the middle of the road, Haaretz recounted. A Palestinian ambulance crew happened to drive by and attempted to evacuate Jallad, but Israeli forces prevented them from doing so.
He was eventually evacuated in an Israeli ambulance and taken to a hospital.
During the months of hospitalization before his death, Jallad was put under the custody of an Israeli military court. His family were kept in the dark about his condition and were prevented from seeing him.
Jallad's father was denied a permit to enter Israel and though his mother was issued a permit on four occasions, only once was she allowed to enter her son's hospital room.
The family looked up one of his doctors online and called him last Friday. It was only then that Jallad's family learned that he had died, they told Haaretz. They still have not been informed of the date and cause of his death.
Israel transferred Jallad's body to his family on 17 February. The Ma'an News Agency reported that his body will be examined in the presence of Palestinian legal officials before being buried on Saturday.
Israel has withheld the remains of dozens of Palestinians slain during alleged and actual attacks since late 2015.
Earlier this month, Israel transferred the body of Muhammad Zeidan, a 16-year-old who was shot and killed by a private security guard at a Jerusalem-area checkpoint in late November.
Medical neglect of child prisoner
The health of a Palestinian child with leukemia who is being held in an Israeli military detention center has "seriously deteriorated," a lawyer with the Palestinian Authority committee on prisoners' affairs stated this week.
Ahmad al-Khadour, 15, has "suffered from a stroke, feet problems, intense dizziness, and muscle contractions in his fingers," Luay Ukka told media.
The boy has been detained since 2 January, when he was assaulted by Israeli forces who beat him with the butts of their rifles, Ukka said.
The Jerusalem Committee for the Families of Prisoners also reported that the Israel Prison Service had transferred Azmi al-Daqaq, 28, to a hospital after his health deteriorated.
Al-Daqaq is being held without charge or trial under military detention order after he was detained on 20 January "over an alleged stabbing attempt," the Ma'an News Agency reported.
Palestinians have frequently accused Israel of medical neglect of prisoners. Last September, a prisoner died from a heart condition after reportedly receiving inadequate treatment in prison.
In December, the Palestinian Prisoners' Center for Studies released a report claiming that 32 Palestinian prisoners are not receiving adequate medical care for their different conditions.
Some 6,500 Palestinians were imprisoned by Israel as of January.
Teen posed no danger when killed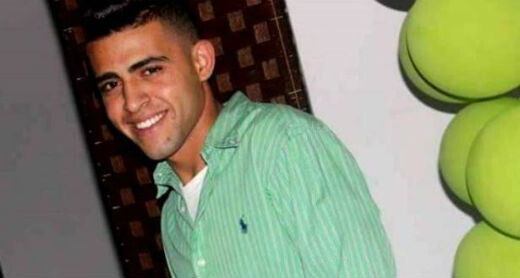 The Israeli rights group B'Tselem stated this month that a Palestinian teenager who was shot by Israeli forces last December posed no danger to soldiers when he was killed.
Ahmad al-Kharroubi, 19, was slain in the Jerusalem-area town of Kufr Aqab when soldiers raided in the middle of the night to seal the home of a Palestinian killed during a shooting attack.
Al-Kharroubi was hiding behind a low wall and "apparently attempted to throw stones at Border Police officers and soldiers" at a roadblock some 80 to 100 meters away from him when he was hit with a live bullet, according to B'Tselem.
Al-Kharroubi, who was shot in the neck, was evacuated to a hospital but was declared dead upon arrival.
B'Tselem stated that "no incendiary device" was thrown at soldiers from the area where al-Kharroubi was positioned. Given the distance the unarmed youths were from the soldiers, "they could not pose any danger," the group added.
B'Tselem also stated that the punitive sealing of the home was an illegal act of collective punishment that "that led to the pointless death of this young man."
Maureen Clare Murphy is the managing editor of The Electronic Intifada and lives in Chicago.
Originally published in The Electronic Intifada