[Moreover] Massachusetts' overall economy is the best in the United States, according to an analysis of federal economic statistics by Governing magazine.
Governing didn't analyze the reasons for Massachusetts' success. However, the state's economic metrics in recent years have consistently outpaced those of the country as a whole, on the strength of sectors such as technology, biotechnology, health care, and financial and other professional services. – From Does Massachusetts have the best economy of any state?…
Pennsylvania was put on notice Thursday that it faces another credit downgrade and higher borrowing costs if it does not improve its deficit-ridden finances.
For those that wish for an ELITIST system that only favors the wealthy to receive BASIC goods, services and health care — let them join George

Soros

and the top 1%. Let them selfishly deprive and hate others of different ethnic groups and religions. Let them favor their small little enclaves of people able to afford health care and other basics. THEY ARE ELITISTS like

Soros

.  I and my state of MA will NOT conform to their desire for deprivation!
MA is proof that we can provide for all, but only if we fight like all get out against bigotry, racism and other sorts of social/ideological ills, especially the sorts created by anger, fear and hatred of the presumed "other"! And we need to remain forever vigilant so we don't slip into wrongful ways…If we can do this pattern here in MA, so can other states and countries, especially if the Federal branches of government quit wasting money in ways that this information shows:
How Were the FY2017 Pie Chart Figures Determined?
"Current military" includes Dept. of Defense ($586 billion) and the military portion ($182 billion) from other departments as noted in current military box above. "Past military" represents veterans' benefits plus 80% of the interest on the debt.* For further explanation, please go to warresisters.org.
These figures are from an analysis of detailed tables in the Analytical Perspectives book of the Budget of the United States Government, Fiscal Year 2017. The figures are Federal funds, which do not include Trust funds — such as Social Security — that are raised and spent separately from income taxes.
What you pay (or don't pay) by April 18, 2016, goes to the Federal funds portion of the budget. The government practice of combining Trust and Federal funds began during the Vietnam War, thus making the human needs portion of the budget seem larger and the military portion smaller.
*Analysts differ on how much of the debt stems from the military; other groups estimate 50% to 60%. We use 80% because we believe if there had been no military spending most (if not all) of the national debt would have been eliminated. …

Pentagon Spending vs. Security
Presidential campaigns magnify the cries for more military spending. Candidates ignore the facts and declare "the military has been gutted." They one-up each other on who will be the strongest commander in chief. The graph shows military spending at its highest levels since World War II despite recent declines.  Look at what trillions of dollars and endless war have bought, then pledge  to take at least one action below.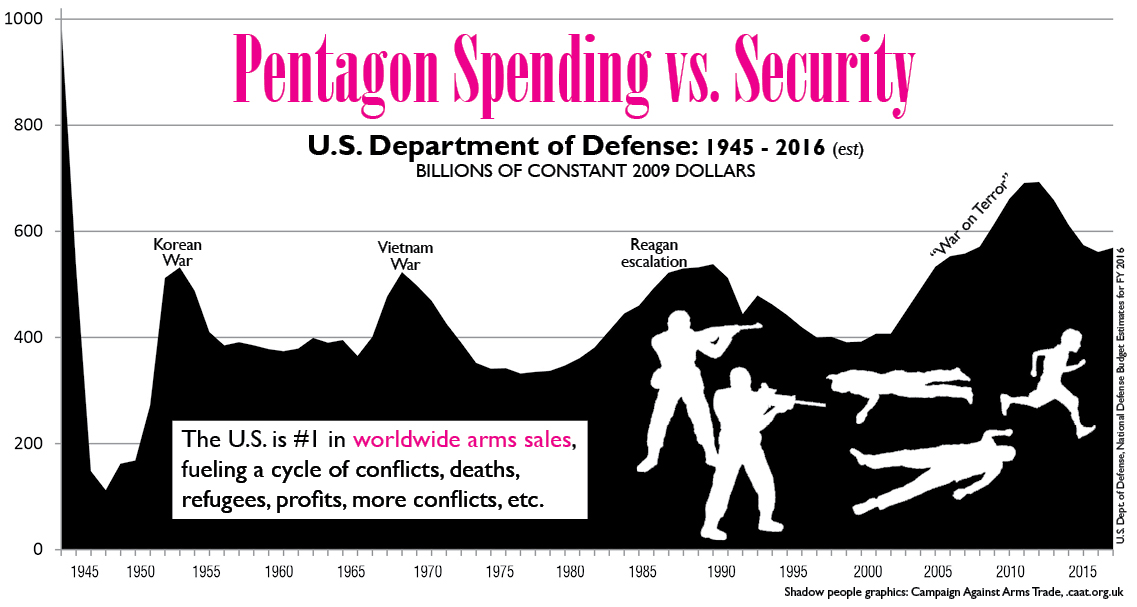 • Steady growth in terrorism over the last decade, with the highest number of deaths in countries the U.S. was "helping" — Iraq, Afghanistan, and Pakistan
• 50 million refugees or internally displaced people due to conflict and violence — the most since World War II
• 100 million barrels of oil per year burned by U.S. military equipment,  releasing millions of tons of pollutants
• Major human rights violations, including detention without trial, torture, expanded U.S. government surveillance, and racial profiling.
Sources: Costs of War Project: , watson.brown.edu/costsofwar; "The Military Assault on Global Climate" by Patricia Hynes
– From Where Your Income Tax Money Really Goes – War Resisters League
As a related aside, I first
learned
of NAFTA from a friend of mine before it was announced by odious  Bill Clinton. (My friend was the token liberal at Rand and Hudson Institutes. They used his work to write refutations. … When he figured it out, he quit.) I hate that for which the
Clintons
and
Soros
et
al
stand.
CAFTA
, supported by globalists is equally bad if not worse than NAFTA. I can tell you stories about NAFTA and
CAFTA
, true accounts, that could almost put your hair on end out of fear for the lives of others if you have any sense of compassion for the people impacted. … So I have become a
regionalist
and am particularly enamored of the transitional movement:
The terms transition town, transition initiative and transition model refer to

grassroot

community projects that aim to increase self-sufficiency to reduce the potential effects of peak oil, climate destruction, and economic instability.
– From
Simultaneously, I am thankful for the others who resist overt and covert forms of bigotry outside of my small town. For example:
Aug 20, 2017 – Uploaded by CBS Boston
Boston Police Commissioner William Evans said their plan for the Boston Free Speech Rally went just as …

Tom Brady Calls Trump Comments "Divisive" after Patriots Take a Knee:

I will take the knee because I've been honed for the fight ever since I saw results from FAT Boy and Little Boy when I was five years old. The innocent Japanese citizens in NY for reconstructive surgery looked something like these following images. … I've had more than enough of the "My country

T'is

of Thee …"!  (Try singing it. especially the "sweet land of liberty" phrase while looking at these images. Try saying, too, the "Pledge of Allegiance To The Flag" while looking at the images as the disparity between ideal and reality could be stomach churning.)

Can America support the burning of babies?
So where can we stand with this all? I'll share the answer from a proactive (now dead) Quaker man involving a song that I used to gladly sing as a child. It is one of my MY patriotic songs more than any others used to try to indoctrinate me to conform in terms of nationalism.
Apr 2, 2014 – Uploaded by
Kálmán
Tóth
Was arrested singing "we shall not be moved" at the Albuquerque … with the meaning of this moving song …
When I read this following statement by a member of Bernie

Sanders's

team, I only get more inspired by songs like this one sung by Pete S.. Some of us refuse to bend the knee to the authority. We have a different vision and agenda for our country and the world.
Please be my guest if you wish to sign up for Bernie

Sanders's

email receipt. I assume that you can do it through this e-address:
info@

ourrevolution

.com.
His group's emails are generally inspirational and quite truthful in a world filled with propaganda, lies and distressingly sad news.
Income inequality is one of the greatest injustices in our country. Instead of working to grow our middle class and lifting people out of poverty, President Trump and House Speaker Paul Ryan have introduced a tax plan that would slash taxes for corporations and the very wealthy while destroying services like Medicare, Medicaid, Social Security, and education.
Our Revolution is working to fight back against Wall Street banks and greedy corporations who benefit from an unfair tax system. We can't let the billionaire class get richer while children go hungry, men and women cannot afford basic medical care, and students are burdened with thousands of dollars of debt.
We know that despite advancements in technology and productivity, millions of Americans are working longer hours for lower wages. The reality is that for the past 40 years, corporations have rigged the rules to redistribute wealth and income to the wealthiest and most powerful people of this country. The Trump-Ryan tax plan is more of the same.
It is our moral obligation to keep fighting for a country where corporations pay their fair share and everyone, regardless of race, class, or gender, can earn a living wage and make enough to take care of themselves and their family members. We won't stop fighting until we make that dream a reality. In solidarity … – From Larry Cohen, Our Revolution Board Chair at Searching for Ithaka: Our Tax Fight | Larry Cohen, Our Resistance.
I'll tell you a little secret that won't be a secret any more since I'm now sharing it. I cried yesterday upon leaving a grocery store. It was because a man in his sixties entered the women's bathroom there.

I didn't care one whit about his being there. I was worried because of his mother in her nineties trying to negotiate in a stall by her feeble self. I already went though this sort of situation with my own mother and grandmother. So I asked whether I could help.
When the answer was affirmative from both of them, I, with respect and tenderness, swooped into the bathroom stall, laid down toilet paper of the seat to create a clean surface, helped pull down her pants and panties, took her arm and helped her to sit.  Then I helped her get up, pull up her bottoms, pushed all of the toilet paper into the toilet and helped us both over to the two sinks.
I smiled the whole time with her and her son, and called her "Grandma" out of caring and to show my sense of her affinity to me. Yet I ached inside of myself because nobody, and I mean nobody, should go without the help that s/he needs. Especially this is true for peoples wrongfully bombed to smithereens.
As Pete S. sings: "No nukes are good nukes" and "Split wood, not atoms."
The First Atomic Bombs
Little Boy and Fat Man Replicas of the Little Boy and Fat Man at the National Atomic Museum.
Trump threatens to 'totally destroy' North Korea – Financial Times

North Korea threatens to detonate H-bomb in Pacific – Financial Time
Frankly, I'm sick of it. I'd rather sing this Pete Seegers song to keep shoring myself up against the common standard. Then out I go to face another day of trying to serve at least one other person like an elderly woman in an increasing state of decay.
Sally

Dugman

is a writer from MA, USA.