The occupied East Jerusalem suburb of Issawiyeh has long been a flashpoint for confrontations between Israeli soldiers and its Palestinian residents.
But even by Israel's repressive standards, the crackdown to which the town has been subjected over the past three years has been extreme.
In July 2014, and like in many Jerusalem areas, the people of the town – known for the tenacity of its youth-led resistance to Israeli incursions or provocations – rose up in protest at the burning to death of Palestinian teen Muhammad Abu Khudair. Hundreds of village youth streamed to Shuafat, Muhammad's hometown, to take part in his funeral and participate in the ensuing protests.
Clashes between Israeli soldiers and youth then continued in Issawiyeh to protest the Israeli assault on Gaza that summer. In October 2014, Israeli forces imposed a weeks-long closure on the town, sealing all but one of its entrances with concrete blocks.
A series of attacks waged by individual Palestinians in Jerusalem in October 2015 was met with another Israeli campaign of repression and collective punishment. This included mass arrests, punitive home demolitions, threats of residency revocation, withholding of bodies, and raids and closures in several Palestinian areas of the city.
Issawiyeh's main entrances were sealed off again.
The roadblocks and the stringent checks on cars entering and exiting the town made life unbearable for Issawiyeh's 20,000 residents.
The youth of Issawiyeh were also at the forefront of the civil disobedience movement that swept through the occupied Old City of Jerusalem in July 2017 in response to Israel's decision to install metal detectors at the entrance of the al-Aqsa mosque compound.
"The young men of Issawiyeh would join the sit-in at Bab al-Asbat [Lions' Gate] before dawn prayers and nothing could intimidate them," Zahra Qous, a nurse who lives in the Old City's Afro-Palestinian community right next to the mosque compound, told The Electronic Intifada.
"But it was not just the youth. During the two weeks of the sit-in, people in Issawiyeh cooked meals for the thousands of protesters gathering in the Old City and sent donations," she added.
"The solidarity we received from other parts of Jerusalem, especially Issawiyeh, was key to sustaining the movement and defeating Israel's draconian security measures in the mosque."
"Another kind of resistance"
The Issawi family is as deeply engaged in this grassroots resistance effort as any in Issawieyh.
Tareq, 77, and Layla Issawi, 70, have a large family. Six of their children – Rafaat, Medhat, Samer, Firas, Shireen and Shadi – have been imprisoned by Israel at different times; another, Fadi, was shot dead by Israeli soldiers when he was 16.
Fadi was killed during protests in Jerusalem in response to the 1994 Ibrahimi mosque massacre in Hebron.
As Tareq recounted the role of his town during those two weeks of protests in Jerusalem, his daughter Shireen, 38, listened in awe. Shireen, a lawyer, was in prison when the protests to reclaim al-Aqsa mosque broke out in July.
She was also in jail during the closure of 2014 and the Jerusalem uprising of October 2015.
Shireen had been detained and incarcerated with her brother Medhat, also a lawyer, in March 2014. She was sentenced to four years in prison, Medhat to eight after being convicted of providing money to Palestinian political prisoners and communicating with proscribed organizations.
In effect, they were condemned for doing their job.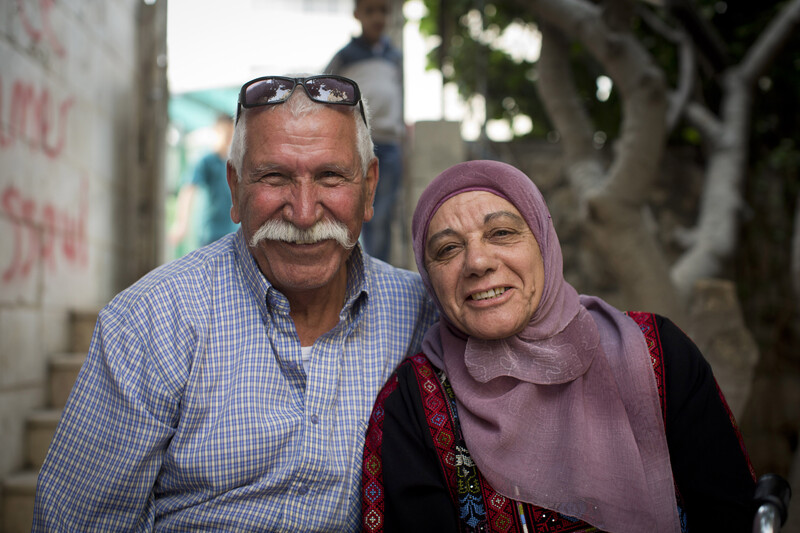 "When Palestinians were resisting Israeli restrictions in al-Aqsa, I knew nothing about it. I wish I could have been on the streets of the Old City then but I was waging another kind of resistance," said Shireen, who was released on 17 October.
"I was in solitary confinement. Prisoners held in solitary are denied family or lawyer visits and are not even allowed a radio, so I was completely detached from the outside world."
During the three-and-a-half years she ultimately spent in prison, Shireen said she was put in solitary confinement on 15 separate occasions.
"Each stint in isolation usually lasted for two months so you can do the math. And it was always for punitive reasons," she explained. "I was repeatedly accused of inciting against the prison services and causing trouble. Each time the girls with me in jail returned meals, I would be punished and taken to solitary for inciting them to do it."
Crime to be warm?
Being labeled a troublemaker by the prison authorities is clearly a badge of honor for her. She happily admitted that she encouraged her fellow prisoners to demand their rights and confront Israeli guards during raids on the cells, both in the Hasharon and the Damon prisons where she was held.
"The majority of [Palestinian] girls arrested over the last two years were charged with stabbings or attempted stabbings and have no political background," she said.
"Many of the girls I encountered knew very little about the national cause. They are children and usually receive long sentences, so I tried to support and empower them, raise their national and political consciousness and educate them."
Just as Shireen supported fellow prisoners, she also drew strength from the determination of others.
One of them was her cellmate in Hasharon prison, Isra Jaabis. On 10 October 2015, Jaabis, a resident of East Jerusalem's Jabal al-Mukabbir neighborhood, suffered severe burns to her face and body from what she and her family insist was an accidental gas cylinder explosion in her car. Israeli police claimed, however, that she was trying to detonate a bomb near a checkpoint, and she was sentenced to 11 years and has been prevented from seeing her son Mutasim.
"She lost virtually everything but she is hanging on for her 9-year-old child," Shireen said. "She is one of the strongest women I've ever seen, a true fighter."
Shireen was aware that her background, as well as her role as a mentor and a leader in prison, exposed her to heightened repression. Guards beat her, she said, and left her with a bruised neck and arm in one raid on her cell in Damon prison.
She could not receive letters of solidarity or send letters to her imprisoned brothers, Medhat and Samer, she said. Among the items that were prohibited to her were woolen blankets and clothes during winter.
"Why would they limit the number of blankets I was allowed to get or prevent me from getting woolen clothes?" she said. "Perhaps it is a crime for prisoners to be warm?"
"Starving for joy"
Tareq Issawi, Shireen's father, is relieved that with her release, the family has one less prison to visit.
"Each of my children was held in a different facility," Tareq said. "Samer is held in Gilboa, Medhat in the Ketziot prison in the Naqab [Negev desert], and Shireen was either in Hasharon or in Damon."
"The long journeys leave a huge emotional and physical toll on us," he said.
Medhat was just 14 when he was first arrested. Now 43, he has spent more than half his life –- nearly 23 years – in Israeli lockup.
"His 5-year-old daughter keeps asking about him," Layla said. "She wants him to buy her ice cream and take her to the swimming pool and be with her during her first day at school."
Layla remembered her son as "an incredibly bright" student with dreams of becoming a nuclear scientist. His life, she said, has been "squandered behind bars."
Then there is Samer Issawi.
"Now it appears like a distant memory but it was the happiest day of our lives," Shireen said of the day Samer was released in December 2013. "Our family, our people, our Jerusalem were starving for some joy and Samer's release after a long battle was one of those rare moments."
Imprisoned in 2002 and sentenced to 30 years for engaging in armed resistance, Samer was released in a prisoner exchange deal between Hamas and Israel in 2011. His rearrest the following year prompted him to go on a hunger strike.
During her brother's hunger strike, Shireen – almost single-handedly at the beginning – fought his cause. She campaigned for his release, organized protests and mobilized Palestinians to support her brother's quest for freedom. And his strike and her efforts seemed to pay off: in December 2013, he was released for a second time.
Three months after the arrest of Shireen and Medhat, however, in June 2014, Samer was arrested again. In May 2015, an Israeli military court then reimposed his original 30-year sentence.
No mercy for children
The younger members of the Issawi family have also not been spared. On 24 July 2016, Shireen's nephew Fadi, then 15, was detained by Israel's notorious undercover police. The encounter left him with a broken arm.
On 21 July 2017, her other nephew and the imprisoned Medhat's son, Tareq, lost his right eye after being hit with an Israeli rubber-coated bullet.
Both Tareq and Fadi were among 27 Palestinian minors arrested during a 12-hour raid by Israeli police on 23 October, unprecedented even in Issawiyeh for the number of arrests in one night.
"Israel launched this wave of mass arrests probably in retaliation for the Issawiyeh youth's role in July's al-Aqsa protests," Amjad Abu Asab, head of the Jerusalem Committee for the Families of Prisoners, said. "It comes after a month of attacks on schoolboys on their way to and back from school, which forced the Issawiyeh local committee to declare a school strike."
According to Abu Asab, 41 children and young men were arrested during the 23 October raid in Issawiyeh. Most of them were released the following day, including Fadi and Tareq Issawi.
Tareq had been scheduled to undergo surgery on his right eye that day, a procedure that had to be postponed.
It is with no small measure of pride that Tareq blames his wife for their children's behavior.
"She is the one who raised her children and her grandchildren to become rebellious and to keep resisting," he said. "And she is the one who keeps us strong despite the arrests, despite the demolition order on our home and despite the suffering."
Layla Issawi is an imposing woman. She once slapped an Israeli prison guard during a court hearing for one of her imprisoned children.
"I smacked him because he dragged Medhat and tripped him and he accused me of teaching my children to hate Israelis," Layla recalled.
"My children did not need anyone to teach them to hate their occupier. Their brother was killed when he was a child. Their lives were crushed in detention, and their land has been stolen, so it's only natural for them to resist."
And Shireen carries her mother's spirit.
"Never for a split second did I think that our resistance is futile or that our sacrifices are in vain," Shireen said. "The path to freedom is long and our struggle paves the way for future generations to achieve it."
Budour Youssef Hassan is a Palestinian writer based in Jerusalem. She blogs at budourhassan.wordpress.com.